Japan: A Photography Trip
Wednesday, November 27, 2013
I've been away for far too long. I've been in Japan from 18 to 25 November and it's the best trip I've ever been on. I got to meet new people and make new friends and the entire experience was truly one of a kind. Of course, at first I was afraid of everything but I had so much fun and I really enjoyed the trip. It's a photography trip so when they opened it up to the school, several people signed up for the trip as well. So here's a simple list of who came: Khairiah, Nabs, Emily, Yi Qi, Jia Qi, Rayna and me (7 girls), Gary, Thomas, Youjing & Kai Feng (4 boys) + LKM, KO, Ms Yeow, Ms Lai, Ms Leong (TJ Principal), Mr Hui (Photog expert?), Noriko (tour guide) and her son Ryo!
DAY 1: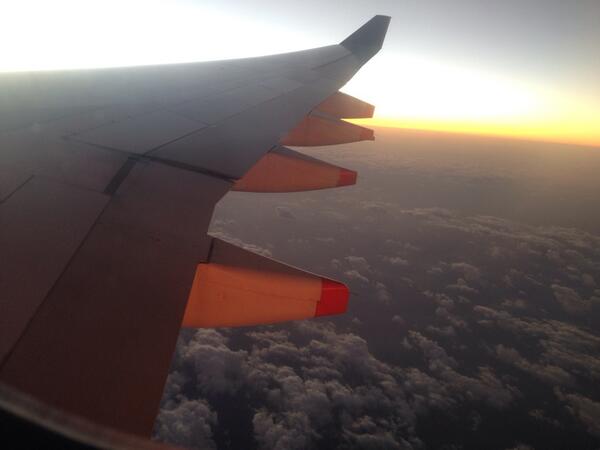 Our flight was at 11.30 at night so I got to take a picture of the sunrise while we're up in the air!
We boarded the bullet train which was quite cool but look! 4,930 yen! That's S$60.
Em and Khai on the rooftop of some mall we visited. Found out that Khai is afraid of heights!
Taking a picture of Thomas taking a picture of me.
Lunch picture duh, maple french toast with ice cream. Heavenly.
We went to the Kyomizu Temple and it was so pretty!
Apparently samurais jumped off this building to complete their training and like 80% survived. There were many graves though.
DAY 2:
The train was either heading towards me or away from me. I don't even remember.
We saw geishas at Arashiyama! This was only memorable because I really needed to pee and Ryo offered to bring me to the toilets and it was really far away so Nabs, Ryo and I were walking so much just to find me a toilet and Nabs & Ryo talked quite a lot as well and I was just awkward as f cos we just met Ryo today (I think, I forgot the timeline for the entire trip), but the whole time I was just thinking "OMG I NEED TO PEE" but we found it, thank god, thank you Ryo and then we walked back to the meeting point. I was actually sweating even though it was like 12 degrees.
Long bus ride to our hotel.
DAY 3:
It was snowing!! This wasn't a destination, more like a toilet break stop, I think! But it was snowing and it was my first time experiencing snow and I got to throw actual snowballs and it was just so fun and I loved it.
Oops, this was like a millisecond before Kai Feng threw a snowball at Khai.
Cutiepies
Meet Ryo Yamamoto. Crazy ass but super cool.
This was at Shirakawago I think, I don't really know where we went. We all just sat on the bus, asked LKM how long the bus ride was gonna be, alight, take pictures.
This was probably at Hida Takayama Furui Machi. Youjing was telling Kai Feng "more dramatic!!"
Then Youjing offered to take a picture of me and Nabs in the river.
Em and Khai found us and joined us. I almost fell when getting out of this river but Kai Feng helped me ;_; Thank you, I could've died.
Pretty much blinded LKM with my flash.
DAY 4:
We went to visit Iwasaki Sample to make food samples out of wax before we visited some other temple before we checked in to our hotel which was totally traditional and I was terrified. Anyway, this was backstage for a performance and this person is actually a man!
Unglam shot but not so unglam idek
Group selfie during dinner! (Which was gross)
After dinner, Em, Khai, Nabs and I hung around at the lobby with LKM and we just talked about how he met his wife and we totally interrogated him and it was really fun and we visited the hot springs and got scarred for life because there were saggy naked women there and we (almost) ran out back to the lobby. Saw the boys in their hotel yukata and the other girls who all bravely went to the onsen (naked). How disturbing.
DAY 5:
We visited a local high school called Arigasaki High School
We went to Mastumoto Castle! It has six floors and basically samurais used to fight in it and it was quite cool but the stairs was steep as hell and I woke up the next day with aches in my thighs. I also almost fell down the stairs but LKM was there hahah #clumsypieceofshit
Calligraphy class! This means music.
Meet my calligraphy partner, Sayaka. She's super shy and so awkward but she was nice to me.
Thank you Youjing for helping to take this picture!!
Youjing, Khai and Mr Ong in front of the entire class.
Got seated with Yi Qi at a table full of Arigasaki students that we didn't know at all but this lot was so fun and interactive and we had a full conversation although there was the language barrier. They even asked Yi Qi and I if we had "loverboys"! Ryo and LKM has been making fun of me and my non-existent loverboy ever since.
I don't actually know where this place is.
We went to Takeshi Village for our farmstay and our host Kesami greeted us! She's really nice and she could speak little English so she drew a lot instead! She also loaned us these short yukatas for us to wear! She gave it out based on what we were wearing already.
After we all had dinner and showered, we went out to shoot star trails but it started raining so we had to go back in. We gossiped about boys and teachers and then finally went to sleep. The mattresses had heaters! So cool.
DAY 6:
Meet Kesami. She was our host and this was taken just a few minutes before our bus picked us up. She even wrote a goodbye letter and we had Noriko read it out on our bus :( It was so sad to leave because she had been such a wonderful host.
I woke up freezing and it was 0 degrees. After we changed and had breakfast, Kesami drove us around her farm. This was just around the corner of Kesami's house.
We drove to Kawaguchiko to take pictures of Mount Fuji.
Ryo kissing a cute dog.
I love the colours in this picture. By now, it was already frustrating to take pictures of Mount Fuji.
We took a cable car from Kachi Kachi Ropeway to the observation point they had this bell! Love is in the air.
This was at Iyashinosato, and we got to see kids playing their traditional Japanese games!
Candid shot of Thomas.
DAY 7:
Woke up quite late and had breakfast with Nabs and LKM at a three-person table and somehow LKM thinks I'm really funny and I'm really not so okay. Youjing came before we left the breakfast area and asked LKM if he had a HDMI cable cos he wants to have a movie thing at his room that night and I said "Eh I wanna join" but then LKM was like "I'll be doing a spot check tonight to make sure everyone is not in the opposite sex's room" Sigh -_-
We went to a mall to see the Tokyo Tower and Ryo brought us girls to see a monkey show.
The monkey's called Junior, and look, he looks so sad. I got to hold his hand several times and he could do some tricks and it was really cool. I wish I could set him free.
Mandatory toilet shot.
We visited this place that was filled with kids in kimonos! Japanese celebrate the 3rd, 5th, and 7th birthday of their children and they celebrate it like this!
We went shopping at this super crowded and scary place but we got a few stuff! We then headed to a 12-storey Uniqlo building and Em, Khai, Nabs and I went speed-shopping and got our stuff! We were rushing so bad you should've seen us. We then headed to a shopping mall and it had Forever 21 and H&M so I got a shirt and some food to eat on the bus. We headed back to our hotel.
I think the entire trip couldn't just fit into one post and we had loads of food shopping and Nabs and I had ice cream almost everyday and I want to type out every single detail so I wouldn't forget but I can't and I just miss Japan a lot. Being roommates with Nabs was super fun and we were almost always next to Em & Khai and next to us would also be the boys. We had to switch hotels everyday and it was tiring but it was a good experience. Every day of the trip was fun and special in its own way and I loved every moment of it. We had loads of shopping on the last day and it totally ruined my mood a little when I crossed my leg on the bus but the zip on my boots ripped my jeans (just a small tear) We reached our hotel and got informed that it was also Toyota-san (driver)'s last day of driving us so we had to bring back everything from the bus and something happened after that which was hilarious. I was carrying all the shopping bags plus my camera and jacket and tripod and when we got down, Nabs offered to carry the shopping bags. Both my hands were occupied so to free my hands, I put the tripod in between my legs and passed Nabs the shopping bags but simultaneously, Youjing looked at my legs and asked "What if the hole gets bigger?" and of course he was referring to the tear in my jeans but Nabs had the dirtiest thought and started laughing like crazy and he realised what he just said and said "No I didn't mean that!!" and it was so funny but embarrassing for me and Nabs was laughing non-stop. We told Khai and then Em at the lobby hahaha. We went back to our assigned rooms and showered and then LKM knocked on the door and I was surprised to see him there because it was already quite late like past 11:30pm and he gave us food!! Some German biscuit thing and we talked a little and then I said we were having a party later so he just gave the entire box to me. We had an all-girls party in my room (since we had this no-going-into-other-sex's-room rule) and the boys had their own party in room 401 while we had ours in mine at room 403. We just had like a food fest with us eating cup noodles and other snacks and the boys had a horror movie fest. Us girls played truth or dare and it was fun and Khai chose mostly all dares so I made some of the dares like, go to the boys' room and say goodnight flirtatiously to the person who opens the door, and next was call the boys and sing to Gary the chorus of "A Thousand Years" and then Rayna decided to spice things up by choosing a dare, so I asked her to go to 401 and say "Y U SO HOT" to the person who opens it hahaha. We were so tired and they all finally left at 3.30am and we slept. Woke up the next day to LKM knocking our door making sure we were awake and then I went down looking like a zombie and LKM and KO were totally laughing at me ugh. We went to the airport a couple hours later and shopped a little and then boarded our plane.
Probably the worst flight I've ever had - although I had the best food. Chicken curry with yellow rice, a lemon cake and ice cream. Anyway, 7 hours of turbulence IS NOT FUN. It was annoying but I managed to watch The Call and Now You See Me and listened to One Direction's TMH and the Aashiqui 2 OST. Finally landed and as soon as the seatbelt light went off, I ran off to the plane toilet but I got to see an air steward dancing and when another air stewardess saw me, she laughed and said "Sorry you had to see that" hahaha okay. We collected our luggage and thank you Thomas for helping me lift my luggage onto the trolley and thank you for the cheese bun you gave me on the third day(??) I waited for Nabs while she looked through perfumes or something then we finally got out of the arrival hall and I saw my mom and the little bitch!! Walked past Youjing while walking towards mom so I said bye to him and guess what?? While my parents and I and the little bitch were eating at Dunkin Donuts, mom said "Eh your friend just now not bad looking eh, quite handsome" ahahah she was referring to Youjing!! And also the cutest thing happened on the plane about a particular couple holding hands ah but nevermind, that shall be a secret between us Japan people. Anyway, here are a few more pictures that were taken by my phone.
Finally got a picture with LKM!! I wish I got solo shots with everyone on the trip but it totally slipped my mind and I have zero solo shots with anyone, wow.
Food that I got. TOTALLY REGRET NOT BUYING MORE?? I'm so stupid.
Dirty people hahahah
I miss Japan so much and the company was great and I loved it so thank you everyone for making it such a memorable trip for me :")